Vinyl Fence Company in Hazlehurst
For the highest quality vinyl fences and the best service in the industry, call Corbitt Vinyl Products. We are one of the top-rated fence companies in Hazlehurst. 
Top-Rated Vinyl Fencing Company in Hazlehurst
Installing a vinyl fence from Corbitt Vinyl Products is a great choice for many different reasons. Vinyl fencing is strong, durable, and attractive. It can last for years with minimal maintenance and won't rot or rust like other materials. Vinyl fences are also less expensive than wood or metal fences, which makes them an affordable option for homeowners who want to improve their property without breaking the bank. 
Additionally, vinyl fencing comes in a variety of colors and styles so you can easily find one that suits your tastes and complements your home's existing design. Finally, vinyl fences are easy to install with basic tools such as hammers and screwdrivers; this makes it possible for anyone to put up a vinyl fence without needing professional help. All these features make vinyl fencing an excellent choice for improving your property's curb appeal while also providing safety and security around your home!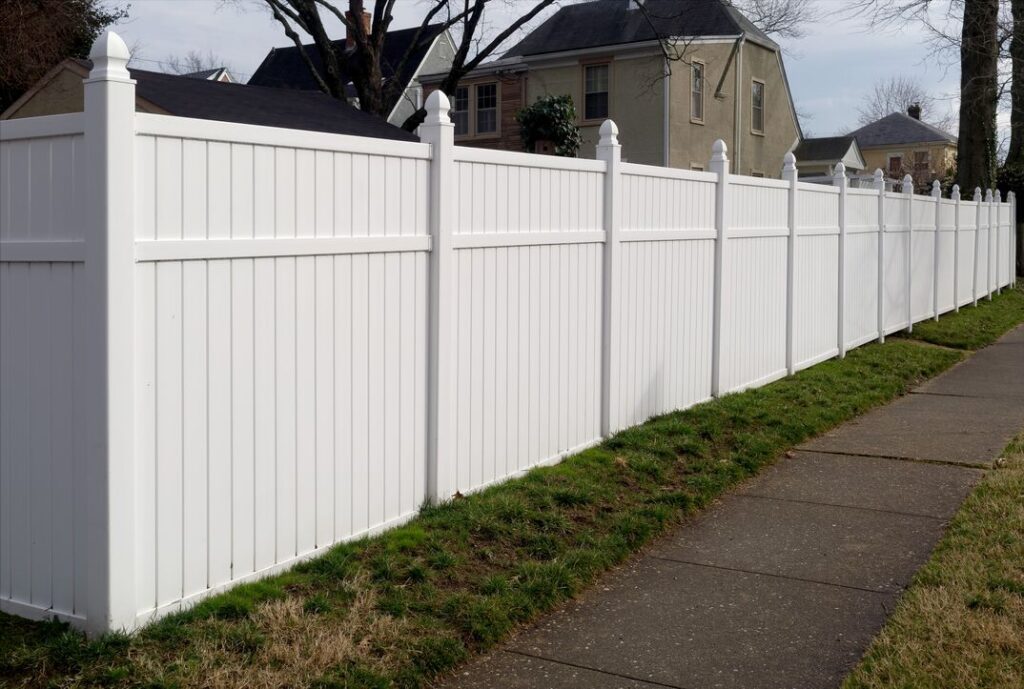 "This company is great. They immediately respond to calls and requests. They worked with us around an existing fence, bushes and structures. The price was fair and the work was top notch. We are very pleased with the look and how quick they were to install it. Definitely go with this company!"
"Corbitt Vinyl has been my custom window and custom fence provider for years. All products are made to specification and quality is superb. It didn't take long to know I picked the right company to help my company thrive. Thanks, Martin for all you do for us. Steve Sullivan Siding and Windows."
"My wife and I had a great experience through and through with this company. We definitely would recommend it to others and use it again in the future. Everything was competitively priced, on time, responsive, and prompt. The fence installer Chris went above and beyond to install the fence too. We are very satisfied with our new fence. Thank you Corbitt Vinyl!"
A vinyl fence from Corbitt Vinyl Products is a great addition to your property. It provides beautiful decoration, adds privacy, and keeps out animals and other intruders. Vinyl fences are also low maintenance – they don't require any painting or staining, so you won't have to worry about them looking old or worn out. They're also durable and long-lasting – vinyl fencing can last up to 30 years with minimal maintenance. Furthermore, vinyl does not rot or rust as other materials would over time; it will stay looking brand new for years! Installing a vinyl fence is also affordable compared to other types of fencing materials; all in all, vinyl fences are an excellent choice for your home!
Vinyl railings are becoming increasingly popular amongst homeowners due to their low maintenance, durability, and aesthetic appeal. Installing vinyl railings on your property can bring a wide range of benefits, ranging from improved safety and security to improve curb appeal.
Vinyl railings offer superior safety and security by providing a strong barrier against potential falls or intruders. This is particularly important if you have children or pets in the home; vinyl railings are far less likely to give way like traditional wooden railings might when pressure is applied. Vinyl railings also provide an added layer of protection against the elements with their weather-resistant components making them even more durable over time.
Vinyl windows should be considered as an investment in their home. Not only are they more affordable than other window materials, but they also offer increased energy efficiency and improved insulation which helps reduce energy costs throughout the year. Additionally, vinyl windows require very little maintenance and are highly durable. They do not rot, warp, or corrode over time, so they can provide decades of service with minimal upkeep. In terms of aesthetics, vinyl windows come in a variety of styles and colors that can be customized to fit any decor, giving homeowners the chance to customize the look of their home without having to break the bank.